Bible Giveaway - Take Part in this Outreach! 
First, donations are needed to purchase more children's and Arabic Bibles.
Second, you can assist in setting out Bibles for people to take at various events here at Shadow of the Cross.
Third, you can take these Bibles and give them to people you know who may need them, in your own personal outreach efforts.
Fourth, if you see a new visitor at one of our worship services, offer them a Bible (they are located on the shelf in the back of the sanctuary).
Finally, you can pray for the people who receive the Bibles.
These Bibles have labels inside that provide information about our services, along with our phone number and website address.
It's easy to become an active part of this outreach!
Electric Wheelchair Available for Short-Term Use
Through a donation, the Board of Trustees now has an electric wheelchair that is in good shape.  Shadow of the Cross members can borrow it for a short time as needed.  If you are thinking of taking someone to a park or zoo or somewhere else, it will be a blessing to have.  Contact the church office to make arrangements.
Need a Card? Take a Card!
Our Greeting Card Station is located in the Narthex on the table, for your convenience. They are free to members and visitors to use as needed.
You might have forgotten your greeting card, or left it at home, and it's someone's birthday! Or grab one to send a get-well wish.
All we ask is that next time you are out, please pick up a card to replace the one you used.  We also accept extra cards, in all categories.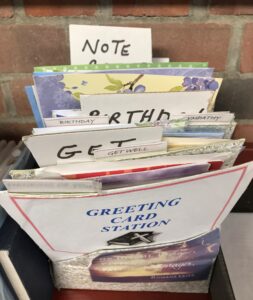 Shadow of the Cross T-Shirts Available 
Body, Soul & Spirit Ministry continues to spearhead a tee shirt sale as part of Shadow of the Cross's spirit wear - this is an ongoing endeavor.
The shirts are $15, with a discount for a family with 4 or more members, and for toddlers. Proceeds go to the church. Please see any member of the Body, Soul & Spirit Ministry for more information or call the church office (248-474-0675).
Order forms for the tee shirts are also located on the table in the Narthex.